Celebrating five years of Rise
A story of constant reinvention, rapid growth and mutual success
Everything starts with an idea. Ideas are the foundation of innovation. Combined with talent and passion, they grow into movements – ones that make life less complicated and more fast-paced, easier, happier.
And in the world of finance, it's no different. Ideas become innovations that change the very way the world of financial services works.
What if we could put more power into customers' hands, so they can understand their spending and move money around more easily?
What if banks could analyse risk in smarter ways?
What if we could reimagine money itself?
Do you have a Rise story to share?
Maybe you came to one of our events, and came away feeling inspired. Or you were part of a team in one of our global locations, and remember how great the coffee was. Or you spent 13 intense weeks on the Accelerator programme.
If you have a story, tell us about it on our Twitter page using the hashtag #5YearsofRise.
In 2015 the UK FinTech landscape was changing rapidly
More startups were entering the market than ever before. Asset management and wealth became the biggest area of FinTech growth, blockchain was gathering momentum and payment technology was maturing nicely.1 FinTechs were poised to change the way the world handled its finances. They were the ones on the ground tackling the everyday problems, having the small 'what ifs?' that could pave the way for the big innovations of the future.
Their ideas could unlock a world of opportunities.
But as agile as these FinTechs were at innovating, banks were struggling to keep pace. They either had to acquire these FinTechs to access their technology or build their own products. Both options were challenging, and both options weren't sustainable. How else could big financial institutions keep up with rapidly changing customer behaviours?
That's when one small team at Barclays had an idea of their own:
"What if we could fuse the power of Barclays with these agile FinTechs?"
The perfect match of speed and security.
Youth and wisdom.
Disruptive innovation and scale.
So that's what they did. And they named us Rise.
Year one (2015-16): The #HomeofFinTech was born
As the startup-led FinTech boom took off, we opened our first site in Whitechapel, London, with a team of less than ten and one strong mission: to accelerate innovation and growth in the financial industry by connecting and supporting the FinTech ecosystem.
In those early days, we concentrated on creating and nurturing the Rise ecosystem. From self-confessed technology fanatics and self-motivated startups, to the best and brightest thinkers and doers from around the world, we encouraged everyone to connect with us, join with us and grow, to create the future of financial services.
Through a selection of programmes and activities, we were able to anchor Barclays well and truly among the emerging FinTech environment.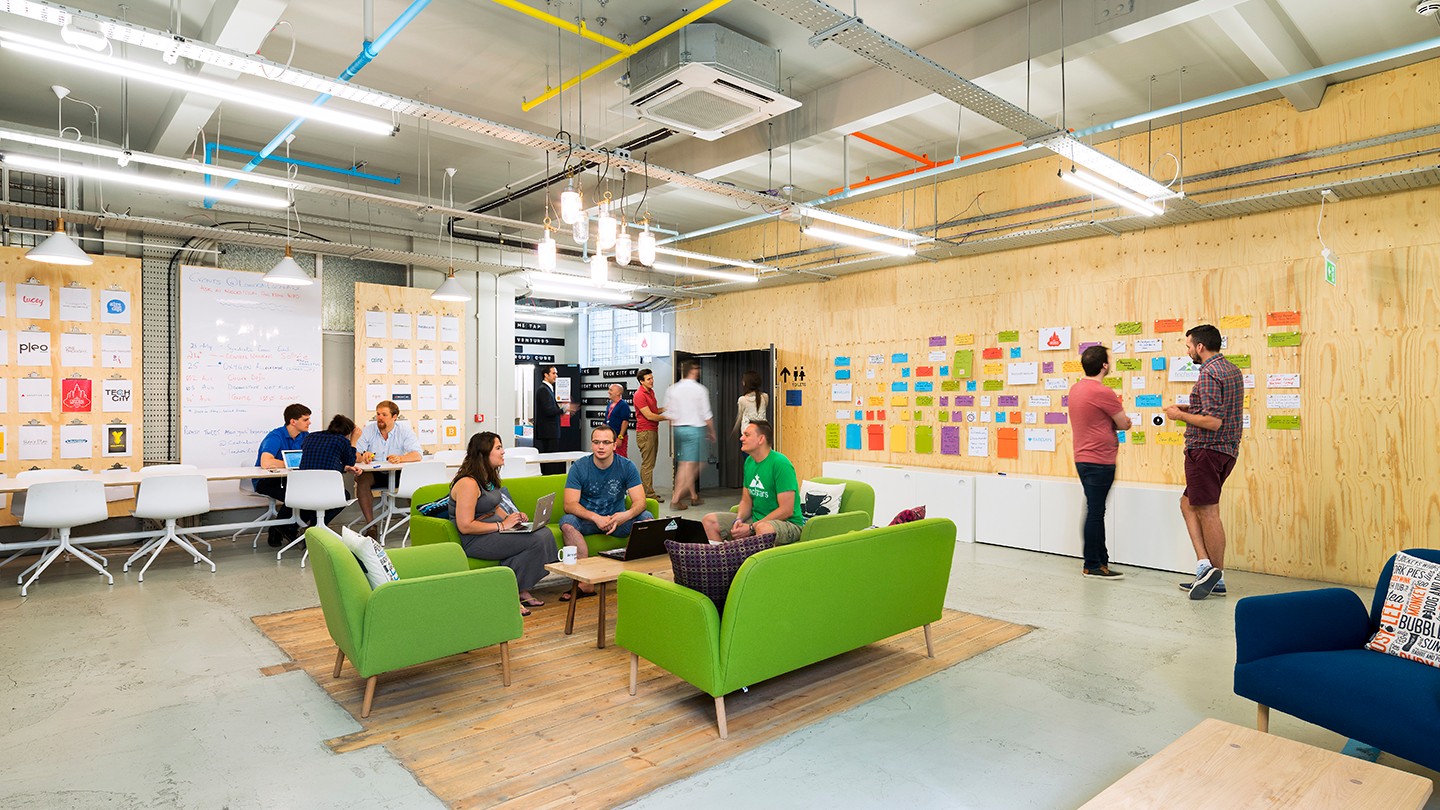 One of those is our flagship programme, the Barclays Accelerator, powered by Techstars, which sees us whittle down around 500 applications from the most promising startups to the 10 we believe are set to develop the greatest innovations. Over the course of just 90 days, these startups meet with Barclays and Techstars mentors to scale their business as quickly as possible to bring products and services to life.
And we're alongside them every step of the way, sharing their highs and their lows, coaching them and their business to greatness.
The programme concludes with a Demo Day, a celebration of the end of the 13-week programme and an opportunity for startups to present their innovations to the world. Typically, over 70% of our teams develop long-term relationships with Barclays. That's a whole lot of innovation.
One of the first FinTechs to join us was Cutover, who orchestrate humans and machines at pace. Technically speaking, that means Cutover helps to optimise the planning, orchestrating and auditing of all the human and technical activities involved in critical IT events like technology releases, resilience testing or major incident recovery. During the Accelerator programme, they hit it off with a number of business units, who've since become paying subscribers to their software, and Barclays has already signed an enterprise agreement for their software to be used across the Barclays Group.
And it's not just our own business that benefits from Rise. We developed partnerships with computer hardware company IBM and the financial services company Northern Trust. They experienced our ecosystem and learned about investing in FinTechs. We were able to start spreading the value of FinTechs and their technology to enterprises across the world.
Following the success of our London Rise site, we opened a New York site and created the Rise brand as we know it today. That's when our network began to grow.
Year two (2016-17): Harnessing Open Innovation
From the very start, we realised the more established that network and our community could become, the bigger the FinTech movement, and the faster we could bring real benefits back to our customers, our clients and the communities we serve. Together, we could empower the world.
Throughout our first couple of years in existence, our focus was summarised by three powerful words: Connect, Create, Scale. We connect the Rise ecosystem through events that engage FinTechs, the industry, the government, academic institutions and beyond. We create industry collaboration, customer engagement and product development. And we help startups to scale, fuelled by our connections to Barclays, our clients and corporates.
We lived by this motto and it helped us solidify our reputation as a community that supports startups and, put simply, helps them rise.
In our second year, we had Cuvva join the Accelerator. The app-based business joined the programme as a pay-as-you-go car insurance provider. After graduating from the programme, Cuvva now sells 3% of all UK motor insurance policies and has landed investments from some of the UK's top Venture Capitalists, allowing it to expand into travel insurance, too.
Seeing the advantage of being on hand to mentor these FinTechs in person, we decided to widen our network of physical hubs to tap into some of the world's leading financial centres and explore their emerging FinTechs. We opened our Rise Tel Aviv and Rise Mumbai sites to support the innovation and growth that was already blossoming there.
With sites in four countries, we now had the ability to identify different customer needs, different client needs and different societal trends. It meant we could explore all avenues of innovation. It was when we really focused on an Open Innovation approach.
Open Innovation champions the sharing of ideas rather than the siloing of research; to share information and breakthroughs and not keep them secret. By simultaneously applying an Open Innovation approach to Barclays business challenges, we can develop products and solutions that better meet customer needs. By solving those challenges using the innovations of startups from our community, we've enabled Barclays to deliver innovation faster and cheaper.
One of those innovations came from Simudyne, another of our 2017 cohort. The business builds simulations that help banks make radically better decisions in the financial markets, through improving artificial and human intelligence. CEO of Simudyne, Justin Lyon, said: "By going into the Barclays Accelerator, we got in front of not one, two or three people but over 100 different people at Barclays. It enabled us to deeply understand whether we had a product-market fit. Because if we can make it fit for purpose for Barclays, it'll work with other banks, too."
Year three (2017-18): Scaling
Our first two years was all about the startups. How can we connect them with the right people? How can we create an environment where they can innovate successfully? How can we help them scale their businesses, products and services and get them into the real world?
As we matured, and as we understood more about the FinTech ecosystem, we wanted to apply that 'connect, create, scale' mantra to ourselves. We wanted to be the leading experts in financial technology, trendsetters for nurturing new ideas, and be seen as the voice to listen to for all things FinTech.
For us, 2017 was all about scaling. We built connections with industry influencers and the movers and shakers of the FinTech world, amplifying their voices through our campaigns. And we got serious about sharing up-to-the-minute FinTech news from our global Rise sites, influencers and our wider network, across all of our channels. Our followers get exclusive insights into the world of FinTech.
As well as launching thinkrise.com (later to become rise.barclays) and newsletters, we started attending speaking engagements including Money 20/20 Las Vegas, Finovate 2018, Techstars Partners Summit and MoneyLIVE.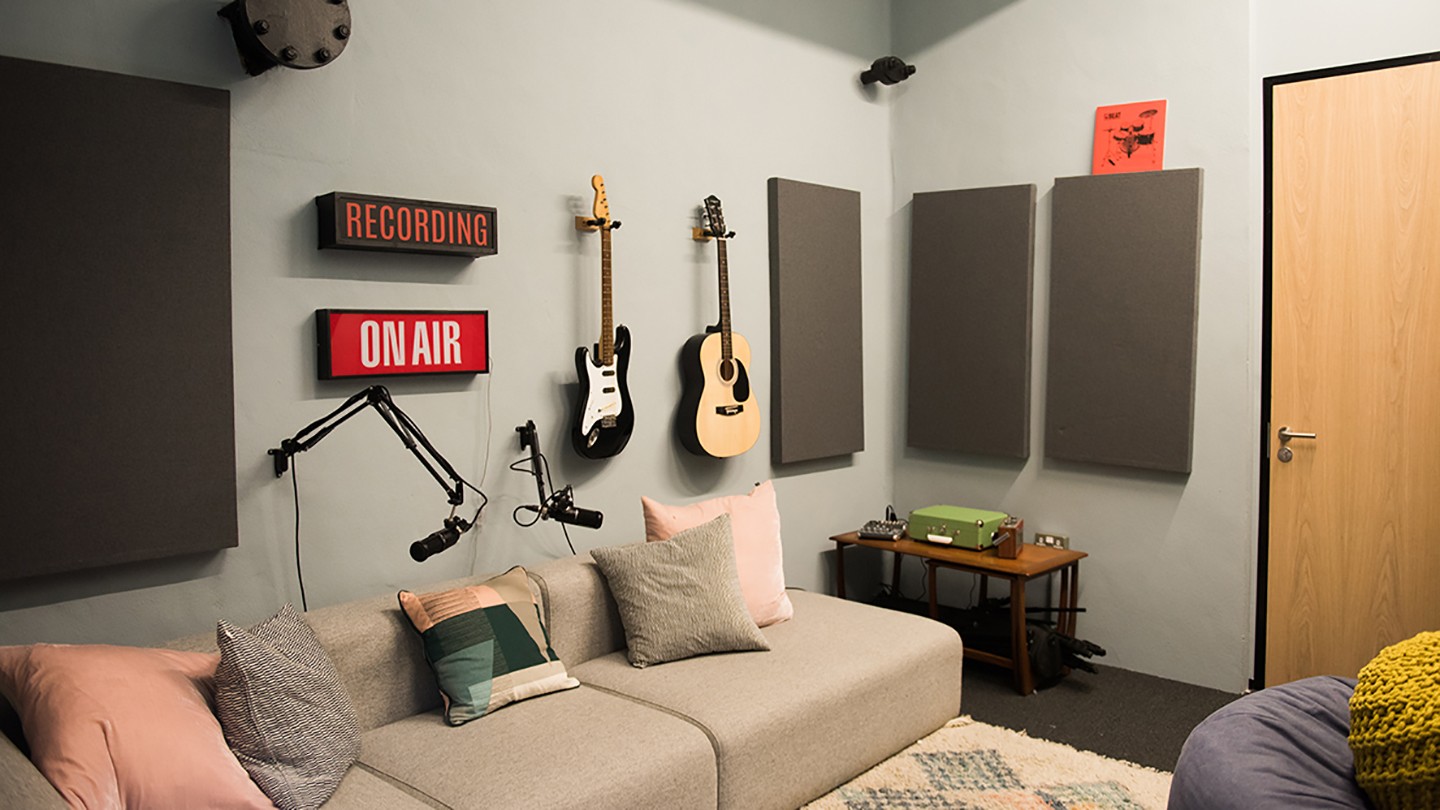 Our newly launched Rise Radio saw us chat about all things innovation and technology with Barclays colleagues and startup entrepreneurs alike. After 17 successful episodes, we switched to a podcast format with the Rise FinTech Podcast, that lets anyone download and listen to cutting-edge ideas and influential topics on the go: data science, Open Banking, FinTech partnerships, the psychology of payments, and women in FinTech. No topic is off limits.
We also wanted to find ways to drive the innovation mindset both internally across Barclays and externally within the FinTech ecosystem. So we launched the first of many successful hackathons, one- or two- day sessions that work technical use cases into highly creative solutions, prototypes, test codes or even new industry models. DerivHack 2018, simultaneously hosted in Rise London and New York, challenged teams to come up with a solution that would enable greater efficiency and standardisation in post-trade processing. It was estimated that the ideas that emerged from the event could save the financial services industry double-digit billions2.
Our efforts were being recognised and our reputation as a FinTech champion began to grow.
Year four (2018-19): Building out our programmes
Since we started life in 2015, our focus had been building our presence in the FinTech world – demonstrating our expertise, supporting startups and extending our reach across channels. Keeping the conversation going, sharing insights, inspiring the next generations of FinTechs. If previous years were predominantly about growing our ecosystem, 2018-19 was the year we started work strengthening it.
We already had a strong Accelerator programme and a few successful hackathons under our belt, now we wanted to offer programmes that would help ease real social problems, spread the innovation mindset further and introduce our clients to innovators that could revolutionise their business.
Two of the social problems we wanted to help tackle were the funding gender gap, and diversity and inclusion in the FinTech industry. A joint programme saw us launch the Female Innovators Lab by Barclays and Anthemis, a New York City-based studio that encourages and supports female entrepreneurs to establish their FinTech businesses.

To spread the innovation mindset even further, we launched ambassador programmes and secondments for employees. Barclays employees could experience the Rise environment, learn from us, understand the processes behind innovative thinking and take that back to their departments to catalyse innovation across the bank. Similarly, some of our global programmes saw us hold thought leadership events for our Barclays clients, so they can learn and engage with different perspectives, including those of innovators, influencers and intellects in the FinTech field.
The past four years had seen us establish ourselves as thought leaders in the FinTech industry, and we wanted to share that abundance of knowledge and insights with the ecosystem. So we started collating the knowledge gained from our FinTech network of nearly 600 companies, and launched the Rise FinTech Report (later renamed Rise FinTech Insights). This regular publication explores trends, topics and successes from across the world of FinTech.
Year five (2019-20): Expansion, digital and the future
Over the last five years, we've become the experts the FinTech world needs to keep innovating. We're sophisticated in the way we inspire businesses, our colleagues and each other, to do more, be better and innovate harder. We paint a picture of what is possible with the right ideas, the right team and the right ambition.
Our new mission became to connect technology, talent and trends from the Rise network to accelerate innovation and growth in the financial industry. Talent, Trends and Technology. The Three Ts.
And we're always at the forefront of industry trends, setting new boundaries, pushing innovation further, testing, learning. When blockchain sparked excitement back in 2016, we were already exploring its possibilities alongside Chainalysis, whose cryptocurrency investigation solutions are among the most comprehensive in the world.
In 2019, we expanded Rise New York. Now our network's largest site, with five full floors and room to host over 200 businesses, the site has state-of-the-art event space, an auditorium and a recording studio. It will allow us to foster more FinTech talent and drive innovation across Rise members and the public alike.
In 2020, we took our relationship with Flux, a digital receipts startup and Accelerator 2017 graduate, to the next level my acquiring a minority stake in the business. Flux's digital receipt software is already being used by Papa Johns, Just Eat and KFC, and will soon be available to Barclays' entire mobile banking customer base3.
With more than 170 alumni companies and 18 programmes completed to date, the Barclays Accelerator has become one of the largest single-bank-powered portfolios globally, with a portfolio valuation of over $1.4 billion.
Although we've made huge progress over the past five years, there's still a way to go before we become the truly global hub of innovation we want to be. With society embracing a more digital life than ever before, we're having to virtualise even faster. Although our 2020 London Accelerator Demo Day had to become virtual at short notice, we had our largest number of event sign-ups on record, with over 1,200 global registrations. And our new digital site will give FinTechs access to our team of experts and our programmes, wherever they are in the world. 
We're especially conscious that in this time of change, when people are spending less in store and more online, and eCommerce needs to be more simple and robust than ever before, that there'll be a huge need to solve problems like these that we've not encountered before – and quickly.
So that's what we'll keep doing.
Because we are Rise. And we are the #HomeofFinTech.
Subscribe to our weekly newsletter for all the latest FinTech news